1
« on: June 26, 2017, 12:23:22 AM »
Thank you all for the kind words!
It's good to be back.
Replies first thent he rest of the rep!
Based off of the half-dozen or so games I've played in 8th so far...

This ain't gonna go so well for the Space Marines. Unless I'm way off the mark here, that's simply not enough firepower to deal with that volume of Boyz. Gravcannons aren't suited to kill Tanks anymore with S5, and lack volume of fire to kill Ork Boyz...
I dunno. Maybe if he has a really good first turn and you manage to whiff Da Jump or your post-jump Charge...


I guess I'll just wait and see. But my teef are on the Orks.

Hi Waaaghpower,
You're not wrong. Grav just can't cut it like it used to and Horde Ork is actually viable (scarily enough).
Let me know what you think of the rep!
Yay! You're back!



------------------------------------------
NEW Orks (1500): 80 Infantry, 3 Vehicles; 7 CPs (Battalion and Spearhead)
Ex-Farseer Lorilune (Weirdboy)
Axl Da Goff Rokka (Weirdboy)
Tankbustasx5 w/Rokkits, Boss Nob, Bomb Squig
Boyzx28 w/Sluggas, Choppas, Boss Nob
Boyzx28 w/Sluggas, Choppas, Boss Nob
Grotzx10
Battlewagon w/Deffrolla
Big Mek Wingnut on Warbike w/KFF
Battlewagon w/Deffrolla
Lootasx5
Gorkanaut BigToof (Deffstorm mega-shoota, 2 Rokkits, 2 Twin Big shootas, Skorcha)

NEW Ultramarines (1500): 27 Infantry, 4 Vehicles; 6 CPs
Captain on Bike w/Thunder Hammer
Librarian on Bike, Force Sword
Tactical Marinesx5 w/Gravgun in Razorback w/TLC
Tactical Marinesx5 w/Gravgun in Razorback w/TLC
Tactical Marinesx5 w/Gravgun in Razorback w/TLC
Bikersx5 w/Gravgunsx2
Centurionsx3 w/Gravcannons, Hurricaine Bolters
Devestatorsx5 w/MLx4
--------------------------------------



That looks... decidedly mismatched. Maybe I'm wrong (I haven't really seen the new Ork or Space Marine rules) but are you sure that's actually equal points? The Marines look significantly outnumbered and outgunned, kinda like my first game of 8th, where I didn't realise I had to pay for basic equipment but my oppponent did. Or perhaps you've missed something off the SM list, it does say 4 vehicles when I only count 3.

Not that it matters much, I'd be rooting for an Ork win even if you had half the forces.

Hi Mabbz,
The Marines are scarily outgunned and outmanned, but you know, Orks and all.
I'm not off on my points as far as I know, but Orks stayed about the same while SM mech became hella more expensive.
i.e. 110 pt. Razorbacks??
Hope you like the rep!
Nothing could make me happier than the return of Big Louie.

Welcome back BT, hopefully this impending win will be the first of many new battle reports.

Hi Cammerz,
Perhaps you know me too well
I was so glad fluff-wise that Weirdboys are still worthwhile so I can keep Lorilune and BigToof has a new role.
I'm not set yet on my list, but I'm hope you like this one.
More are DEFINITELY to come.
Best,
-BT
-------------------------------------------------------------
Pre-Game Thoughts: Huh, that's not a lot of Marines. My opponent had some not-so-kind words about the costs of vehicles (they should be "free" after all?) and said that he would take grav just to see how good it is.
I, on the other hand, have a lot of math-hammer on my side and the potential for some dirty tricks, but I have NO idea as to how well it will work.
-----------------------------------------------------------------
Deployment: Wow, is deployment different.
We take turns to deploy units and whoever deploys FIRST gets to choose to go first or second.
Mentally counting my units, I am CLEARLY going second.
The Marines start deploying first and put a Razorback on the hill. I counter by putting BigToof on the hill (hi!). My opponent clearly has some concerns about the big guy as he castles up near the center with all of his units lined up to fire with the Bikes in the front. My mates end up a bit more spread out, with the Battlewagons flanking 'Toof and Louie and Axl in the back with the two big units of boys near them. I decide to let the Grotz chill in the right flank with orders to advance if things start looking really grim.
I (not surprisingly) fail to seize initiative and we're off to the races!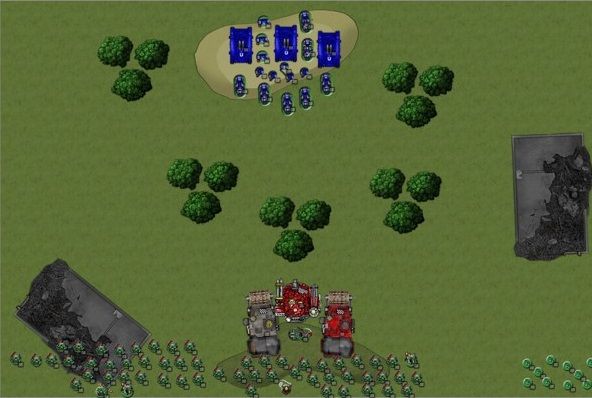 Picture Caption: These boyz in my backfield? Don't worry about them. Nothing sinister at all I reckon!
--------------------------------------------------
-----------------------
Turn 1: Ultramarines
-----------------------
Captain Excelsior Maximus stood mouth agape looking at the rusting beheamoth that stood at the front of the Ork line.
"Sigmund! What is that thing?"
Librarian Novenus checked the most recent surveys that were, as usual to most Orkish creations, rather disturbing. "It appears to be some kind of Orkish Knight, sir."
Maximus gasped in surprise and then narrowed his eyes in disgust. "It's an abomination, it's what it is. FIRE EVERYONE! FIRE!"
-------------------------------------------------
The Bikes move to my left trying to go for a potential flank and then the firepower of everything within range goes at BigToof. But, with a bit of Orky luck (AKA my opponent rolls not so great) I take a few shots, but it's not enough to slow the big guy down!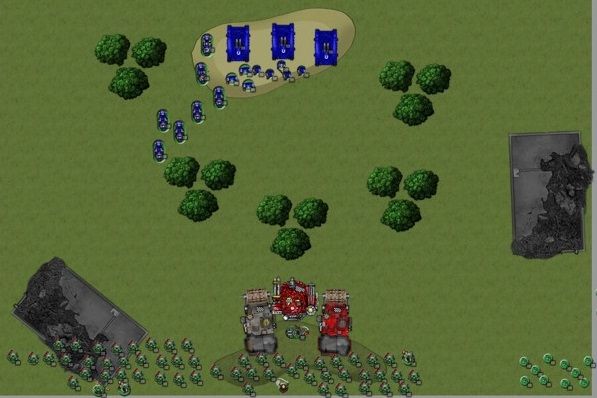 Picture Caption: OPERATION DISTRACTION CARNIFEX is a success!
-----------------------------
Turn 1: Orks
-----------------------------
Massive amounts of firepower sailed through the air and lanced into the enormous hide of the Gorkanaut. A shudder ran through the machine and chunks of mostly soldered-on metal flew off, making Big Mek Wingnut yelp and hide behind his bike. The shimmering Kustom Forcefield held on though and the Gorkanaut, though damaged, seemed mostly intact.
BigToof's voice rumbled out of the speakers in the Gorkanaut,
"'EY LOUIE! I FINK DEY'S SHOOTIN' AT ME! KAN I GO KRUMP 'EM NOW?!"
Wingnut nodded, realized after a few moments that the massive Kan didn't see him and then yelled out, "Yeah! Go fer it!"
"OKEY-DOKEY! HEY YOUZ BEAKIES! IT'S KRUMPIN' TIME!"
-----------------------------------------------------------------------
Lorilune held onto her staff as the ground trembled with each massive footfall. Clearly the Mon-Keigh were distracted. Now for her masterstroke.
"Team One! Be ready! Axl, release your Warp charge!"
A strange grating sound went through the air, and Lorilune looked over as the strange ebon-clad Ork dropped a pair of dark spectacles over his eyes and began to strum on the wires strung across his staff. A howling wail came out, causing Lorilune to hold onto her ears in torment, but her eyes widened with surprise as she saw the reaction from the Orks around her. A strange greenish energy began to build up within them and they began to bob their heads and stamp their feet.
Cries of "Yeah, dat's right!" and "Orks is made fer rokkin'!" filled the air and then Axl turned a few screws on his staff and began to visciously strum the ramshackle instrument with sweat flinging from his body. A rumbling growl came out from both staff and Ork who began to howl out non-sensicle profanities and growls.
Lorilune tried to keep something deep within her from tapping its foot along in time. The Orks around her, though, were less restrained and the Orks began to throw themselves against each other and shoot their Sluggas into the air while screaming with barely-contained mayhem.
The largest and most dangerous mosh-pit of all time soon manifested and Lorilune smirked as she felt the power of the WAARGH! build up onto her fingertips. If the Orks liked Axl's little trick then they would love what would be coming up next...
---------------------------------------------------------------------------
Time for trickery! (hopefully)
My big three move forward and Louie and Axl skitter about readying their psychic power.
Both Warpath and Da Jump go off (giving both a few wounds with perils) and THIRTY BOYZ suddenly appear on the left flank of the Marines.
The Tankbustas release Lucky the Bomb Squig, who, with the now re-rolling Rokkits(!), slam into the left-most Razorback, detonating it and damaging the surrounding squads.
The Lootas take down two bikes and BigToof shoots wildly into the Devestators, whittling them down to just a few Marines.
Then we go to assault. I need 9" to get in. I roll for charge aiming at both of the Razorbacks and Devestators. Overwatch is thankfully not very painful, and with a command point, the Orks MAKE their charge and get stuck in! (Re-rolling a single die on 2d6 is very, very nice).
My opponent's jaw drops when I tell him that the Sluggas get FIVE attacks each and are now S4 (lovely buff from 8th), which easily wipes away the Devs and almost tears apart one Razorback and takes some wounds off the last Razorback. Consolidation lets me rope in the Centurions.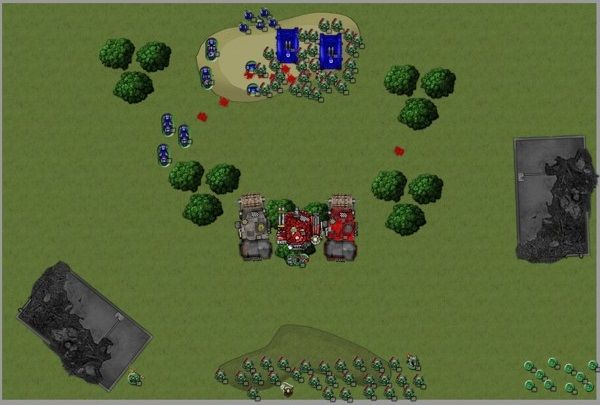 Picture Caption: SURPRISE!
---------------------------
Turn 2: Ultramarines
--------------------------
"This is inconceivable!"
Captain Maximus was waving his Thunder Hammer as a veritable rain of crazed Orks began to rain from a gigantic portal in the sky. He had raced forwards on his bikes to try and push them back, but it was far too little too late.
The green tide descended on the Marines next to him and Maximus could only shake his head in shock as Orks of every kind and size were overrunning his position! How cruel and unfair the universe could be! he thought as he smashed the skulls of the Orks around him. If only Sigmund had warned him of such atrocity!
------------------------------------------------------------------------
My opponent is clearly rattled, but he wants to try and do some damage.
Everyone who can (not the very badly damaged surrounded Razorback as he can't clear the horde he's surrounded in) falls back, meaning that the Razorback and Centurions can't fire but won't suffer the hits back. Maximus moves up to assault and the Bikes try and slow down the Tankbustas.
The Bikes find that Grav isn't very good against Battlewagons and then charge in to do... no damage. The Battlewagon hits back (yes, that's something they do now) and my opponent finds out that Wagons with Rollas are quite dangerous, mowing down one bike with glee.
Maximus squishes some Orks, suffers a few wounds back and then the Boyz finish off the Razorback, destroying the squad inside and then move towards the beleaguered Captain.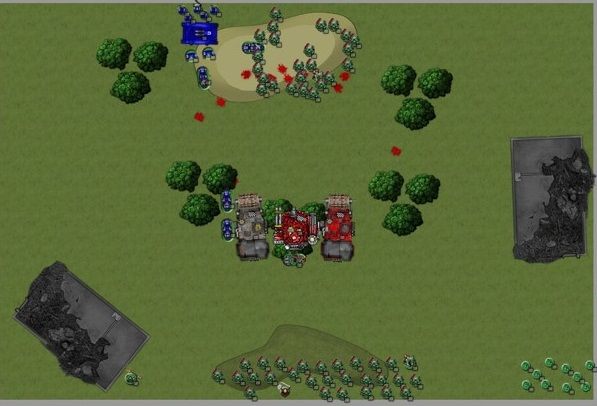 Picture Caption: FALL BACK!
-----------------------
Turn 2: Orks
-----------------------
Lorilune and Axl do their magic again (thankfully without perils this time) and shoot the last big squad over behind the Marines to sandwich them in. Shooting takes down the last of the Centurions.
BigToof assaults in and peels the last bikes off the Battlewagon and the new Warpath'd up
The Boyz MAKE their assault (again with a command point) and then go to surround the Razorback, severely damaging it and nigh-surrounding the last Tac squad.
Maximus takes some more wounds as he bonks the heads off some more Orks.
Picture Caption: SECOND WAVE GO!
And that's where we call it.
Result: ORK VICTORY!
-------------------------------------
Post-Game Thoughts: By Gork and Mork that was ugly!
Big Louie's Warpath and Jump combo is just as nasty as I thought it was going to be. FIVE S4 attacks per Ork is just crazy and the charge distance (though it seemed far) was actually not impossible with Command Points as you can keep a high-rolled die (like a five or six) and then re-roll the other die to make the distance. Worked pretty well and having so many Orks suddenly manifest on your flank really changes the dynamic of the game.
Tankbustas are still hella solid. I was worried that they would lose their teeth as Tanks are just so sturdy now, but now that they have re-rolls and Rokkits do THREE wounds each, you don't need so many hits to bring a tank down. Plus, tanks are so pricey, you don't see AS many as you used to.
Lootas are pretty decent as there's a lot of 2 wound models out there (bikes, etc) and forcing saves at -1 actually makes them useful. Lootas in Battlewagons are pretty nice, as the Battlewagon's special rules makes it so the Lootas don't suffer movement penalties.
And last, but not least, is my DISTRACTION CARNIFEX Bigtoof.
The big guy actually didn't DO that much, but he put wounds on people here and there and just tanked so many shots that could have crippled my army. KFF still works wonders! (thanks Wingnut!) Oh, yes, and he does hit like a boss as the Bikes didn't stand a chance.
Looking forward to the next game!
Let me know if there's something you want me to see on the board, as I think the future will be Orky!
------------------------------------------------------
---------------
Epilogue
---------------
Ex-Farseer Lorilune surveyed the war-torn battlefield from the confines of her perfumed soaking tub. It was the proper reward for a half-decent battle. Although the Orks tried their best to sabotage her wondrous plan, even they could fall into the simple yet devious mechanization that she had devised. Indeed it had turned out to be a good day.
Then, the roof to her small room room rumbled, and Lorilune dived underneath the water as the entire ceiling ripped free.
An enormous pair of luminous eyes looked down at her as she sputtered back to the surface, wiping suds and her composure out of her eyes.
"'EY LOUIE!" roared BigToof, "I DONE FOUND YOU! I FINK WE WON!"
Snarling, Lorilune felt the Orkish energy form around her and it took a great deal of concentration to keep it from bubbling her water away.
"Yes, we've won. Now let me be! This is only a temporary solution to our problems. The Mon-Keigh will return so it is best if we take what we have won for now."
The large machine shuddered and turned it's head this way and that. Then, with a gesture that somewhat mimed embarrassment it said in a rumbling whisper, "UH, LOUIE, DID I DO GOOD?"
Lorilune sighed, weighed her options and considered the best reponse that would allow her a moment's respite.
"Yes, yes, you did well. Now can you go off and do whatever it is that you were doing very very far away from here?"
BigToof clapped his enormous hands and turned quickly, bellowing, "'EY WINGNUT! LOUIE DONE SAID I..."
A crash and shriek brought BigToof's attention back to the room that Big Louie had been sitting in. He should have really put the roof down before turning around. The now half-smashed in building was glowing with a familiar, pants-wettingly terrible green energy, and BigToof ran as fast as he could on his enormous legs.
Nobody was bigger than Big Louie. Nobody.
---------------------------------------------------
Captain Excelsior Maximus was giving his report to the Battle Barge overhead. Shaking his head, he said somberly, "I am afraid to report that the Ork numbers are far in excess than expected. Hundreds, no thousands of the monsters descended on us from every angle. It was only through sheer luck that I was able to survive. We'll go back as soon as they've left to look for survivors."
"Yes, Captain," said the response from the orbital comms, "What are your orders until then?"
"We wait, dash it all. The Orks may have won this day, but Ultrimar will have it's pound of flesh!"
Maximus then paused after a moment of thought and added, "But, in the meantime send down some of the good amasec and a treatise of Primarch Guilliman's most recent speeches. I need to take a break. Heavens knows I've earned it..."