1
« on: October 01, 2017, 09:00:19 PM »
----------------------------------------------------------------
The Eldar Alliance vs IG/Knight in "The Dark Light Returns" (1500)
----------------------------------------------------------------
Hi All,
NOT DEAD YET.
Real life once again dealt Toof a bad hand or two, but I did manage to finally put some time aside and get a pretty brutal batrep written up!
I'm finding 8th to be hella fast compared to 7th and well, quite bloody when you get to the end game.
And I've always had a soft spot for the Dark Eldar.
Evil for the LULZ of it, hardcore, maniacal and just bad news by the standards of everyone (perhaps even Tyranids).
But, they were kind of lackluster last edition.
You just couldn't get much done without your Craftworld cousins and in the end it was just kind of embarrassing for all parties involved.
So it was with some trepedation that I brought out my spikey Space Elves for combat in the New Era.
And I faced up against a mate who was bringing out a decently hard-hitting list of Scions (AKA Storm Troopers) and a Knight Titan. Oh and Tauroxes a plenty coming out of every orifice.
So... kind of brutal?
But, I had heard that Dark Light was the shiznit this edition and that Harlequins were remarkably good.
Still, looking at what I was up against it was... daunting to say the least.
How did things go?
Did the Dark Kin give the spanking or take one?
Read. On.
Best,
-BT
P.S. Of course there's fluff too
----------------------------------------------------------
--------------
The Lists
--------------
The Eldar Alliance (1500): 26 Infantry, 6 Vehicles; 6 CPs
Archon Y'stral w/Blaster, Agonizer
Farseer Thielbane on Jetbike, Doom
Beastmaster Starsparkle w/Agonizer
Warriorsx5 w/Blaster in Raider w/DL, Shock Lance
Harlequinsx5 w/Fusion Pistolsx3, Embracesx4 in Starweaver w/SCx2
Harlequinsx5 w/Fusion Pistolsx3, Embracesx4 in Starweaver w/SCx2
Razorwing Flocksx4
Razorwing Flocksx4
Ravager w/DLx3
Ravager w/DLx3
Razorwing w/DLx2
Storm Troopers/Knight (1500): 25 Infantry, 6 Vehicles, 1 LoW; 7 CPs
Tempestus Prime w/Command Rod
Tempestus Prime w/Command Rod
Militarum Tempestus Command Squad (Scionsx4 w/Plasmaguns)
Militarum Tempestus Command Squad (Scionsx4 w/Plasmaguns)
Tempestus Scionsx5 w/Plasmagunsx2
Tempestus Scionsx5 w/Plasmagunsx2
Tempestus Scionsx5 w/Plasmagunsx2
Taurox Prime w/Hotshot Volley guns, Gatling gun, Storm Bolter
Taurox Prime w/Hotshot Volley guns, Gatling gun, Storm Bolter
Taurox Prime w/Hotshot Volley guns, Gatling gun, Storm Bolter
Taurox Prime w/Hotshot Volley guns, Gatling gun, Storm Bolter
Taurox Prime w/Hotshot Volley guns, Gatling gun, Storm Bolter
Taurox Prime w/Hotshot Volley guns, Gatling gun, Storm Bolter
Knight Crusader w/Avenger Gatling gun, Thermal Cannon, Heavy Flamer, Heavy Stubbers
-------------------------------------------------------------------
---------------------------------------
Chapter 14: The Dark Light Returns
---------------------------------------
Farseer Thielbane of Craftworld (or ex-Craftworld so-to-speak) Biel-Tan sat on the edge of the far railing of the Grisley Hand Kabal. The Kabal was a roving band of Drukari warships that wandered around like Nomads between the Webway and Realspace. Mostly kept separate from the rest of Eldar society due to their leader's mercurial bouts of homicidal rage and backstabbing tendencies, the flotilla had in its own way insulated itself from the recent alarming events in Eldar history.
The Farseer was lost in thought as he thought about his own timeline. It seemed like it had been an age since he had been assigned for the "good" of the Craftworld to work with the Dark Kin. The spiky, almost venomous architecture was borderline terrifying at first, but he had gotten used to it. Now, the far-off screams of the torture racks and pain pits were an almost familiar, yet diabolical ambiance.
But, he had to wonder what good he had done for his Craftworld. In his absence, an entire new faction of Eldar had emerged, fractured his homeworld and sent the entire race into a frenzy of paranoia and misgivings. Y'nnead, the so-called God of Death, had come looking for followers, and more than a few of the Biel-Tan survivors had joined the ranks of the Death-Seekers.
Luckily, he had been spared the worst of the internal strife, but it was just a matter of time before the spiral of damnation grew out of control.
If only he had more...
"THIEL!"
Thielbane's head jerked up and he saw the impatient, pacing form of Archon Y'stral screaming his name.
The Archon was clad in his spike-ridden raiding armour and was clearly not in a pleasant mood.
"Thiel, what in Khaine's name are you doing out here? We've got a solid raid going off faster than you can kick an Ur-Ghul!"
The Farseer sighed and carefully leaned against the rail, "Y'stral, do you ever wonder what the point of all this is?"
Y'stral snorted, "No, are you crazy? It's simple. Commeraugh got it's guts turned inside out thanks to that totally hilarious fail on Vect's part. Can you believe it? Got made a fool of in front of everyone! He'll never live it down. Yeah, some stuff blew up and your Craftworld got a hole in it. Big. Deal. The important thing is that everyone who can pay for it wants fresh slaves to jolt themselves into a pain and suffering overdose. It's the perfect opportunity, Thiel!"
Thielbane nodded and said, "I... suppose in the short run, that's true, but the Harlequins are..."
Throwing up his hands, Y'stral cut off his companion with frantic gestures, "Whoa, whoa, whoa. Clowns? Thiel? Didn't we have a talk about the clowns? They cramp my style."
"That's... not important, Y'stral. They're ambassadors of the Laughing God. Potential go-betweens of the forces of Ynnead. We have to treat them with respect and they do want to go with us onto the field of..."
But, the Archon was not to be stopped. Y'stral continued his tirade unabated, starting to pace up and down the deck while wringing his hands in thought.
"Oh, Oh! I get it. The clowns are running out of epic material and they want to see how the REAL Eldar get things done. Fine. Fine! Just, they better not get in my way. And if they steal any of my kills, I'll beat them to death with my murder-boner."
Thielbane sighed. It was as close to a win as he could get at this point. "Uh... right. I've consulted the Runes and... you do know that we're up against serious opposition?"
A sharp laugh burst from out from Y'stral who shook his head derisively. "Fffffft. Thiel, come on. It's me. We've got some hoity-toity Mon-Keigh and one of their big metal bozos. Just one. We can handle that."
Thielbane shook his head and stammered, "I... suppose. But, don't you think..."
Throwing a hand over the Farseer, Y'stral laughed, "Think? Think? No, Thiel, I know. I know you need this. You NEED this. You're like someone whose girl left him and then went and set fire to his house and all of his pets. You know, confused and kinda aroused."
"I... don't think that..."
Interrupting again, Y'stral said, "Anyway, that's besides the point. We gotta get these birds the hell out of my ship before they start driving me nuts."
As if on cue, the nearby hatch door opened and a short, white-cloaked figure staggered out. It took the two Eldar a moment to realize that it was in fact, a familiar looking individual coated in avian excreemnt. Starsparkle, former leader of the "fearsome" Reaver gang: the Sky Ponies, tried to walk as respectfully as possible while leaving sticky footprints along the long gangway.
"Archon? Farseer? Is that you?"
Wrinkling his nose at the smell, the Archon responded, "No, it's the Mon-Keigh Primarchs. Who do you think it is?"
Star tried to wipe her goggles clean, but only managed to add another layer of filth. "Apologies. It's just... hard to see... The birds are acting kind of... I think there's something wrong with their food."
The Archon continued, "Yeah, it's called not falling down and dying. Stuff is supposed to kill anything, but those birds just keep crapping it out everywhere."
Trying to respond in a meaningful way, Star added, "Uh, yes. Can I... stop being the Beastmaster now?"
Nevertheless, Y'stral continued his verbal barrage, "Stop? STOP? We need those rabid meatshields out there now. The Mon-Keigh won't know what hit them...:
-------------------------------------------------------------------
The Shrine World of Omicron-Sigma Seven was a blighted, barren wasteland except for a small patch of artificially maintained verdant forest surrounding the remains of a massive Imperial cathedral. Omicron-Sigma Seven had been the site of a recent massive battle in which the Imperium had been victorious over a brutal Cult uprising that dared to question the divinity of the God-Emperor. The Tempestus themselves were brought into play to quickly annihilate the Heretics, but their efficacy had a somewhat unfortunate side effect of purging the entire population.
So it was that the Two Masters sat at their command desk, none of them willing to break the silence. Both were Temespesus Primes, lords of the best of the best of the Astra Militarum. However, they were in the precarious position of having lost most of their Scion underlings and now the default defenders of the Relic of Saint Farquad the Undying was actually made up of mostly officers and their command staff. It was a top-heavy conundrum that few Primes had had to deal with before and it bristling for the Masters to conceive of the fact that there was another individual who had equal authority to their once-vaunted dominion. And it was about to come to blows when the diplomatic conception of "taking turns" was vetted into a hesitant state of agreement and now only one Master was in control at a time. Just, not on a permanent basis. And it did not make the other Prime friendly by any means.
The Primes looked at each other ruefully, both old men, made older by decades of warfare and longevity drugs, and all unwilling to give the others the satisfaction of looking away first. Though named differently, Primes McCullum and Rutherford were practically mirror images of each other. Heavily mustached with lines of wrinkles set into permanent scowls with dress uniforms blanketed with medals and varied sorts of honourarium. Their level of prestige was so similar it was positively scandalous.
So it would have gone on for quite a while, until the door to the Command Room opened and a frantic looking Scion charged in.
"Masters! I..."
Two pairs of beady eyes swiveled on the Scion, who paused and then realized that he wasn't actively saluting them.
Remedying it as best he could, the soldier tried his best to hold the reels of Vox-paper while staying at full attention.
"Uh, sirs. Yes, the scanners have picked up a fast-moving force on the Vox-Arrays. Energy signitures are Eldar."
The Masters scooted their chairs away from the desk in varying states of alarm, but the current leader, Prime McCullum was the one to bark the order.
"Send out the alert. Mobilize the Knight and the Tauroxes for fast intercept. Prepare the others for Grav-Chute entry. Let us see how the Xenos fare against the finest of the Imperium."
-------------------------------------------------------------------
Mission: The Relic
Setup: Front Line Assault
Warlord:
Y'stral: Inspiring Leader (+1 Ld to nearby units)
Tempestus Prime #1: Inspiring Leader (+1 Ld to nearby units)
Combat Drugs:
Starsparkle: +2 Ld
--------------------------------------------------------------------
Pre-Game Thoughts: The relic? Oof, this one's going to be tough.
All of my vaunted mobility won't do beans if my opponent can just hold the center and blow me away.
I also have no real assault elements in my army, so if that Knight wants to just stand around bullying me, then well... there's absolutely nothing I can do about it.
On my side, I do go first unless he totally mechs up his army, but I don't think that'll be his game plan.
I only hope that my boats can take a plasma broadside or two...
His Tauroxes are also pretty scary, but thankfully they're in "bullet-hose" mode (i.e. only THIRTY or so S4 shots) rather than anti-tank. But, there's a LOT of those little trucks.
Setup: We take turns setting up and I castle hard in the middle with birds to protect me from a seize possibility. The Archon with Warriors in the Raider in the Front, Harlies with their Starweavers behind him and the Ravagers to the flanks. Thiel and Star were in the center amongst the big boats.
My opponent set up a bit more carefully, knowing that he would go second due to his ENORMOUS number of drops, but sets up his Knight in the center with Tauroxes trying to stay out of Lance range in the corner pockets.
The Scions failed to seize and the game was on!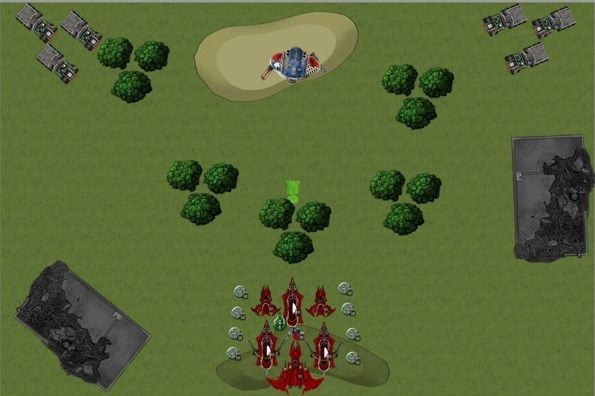 Picture Caption: Hey we have the same number of models! His are just... probably better than mine. Hmm... Hope that Dark Light got the upgrade that they were rumored to have!
-----------------------------------------------------------------------------
To Be Continued!
----------------------------------------------------------------------------